Apple's IOS 14: Updates to Web Event Tracking
February 17, 2021
HOW APPLE'S IOS 14 RELEASE MAY AFFECT YOUR ADS
PRIVATE CLICK MEASUREMENT (PCM)
Apple has announced changes with iOS 14 that will impact how Facebook will receive and process conversion events from tools like the Facebook pixel. Advertisers that optimize, target, and report on web conversion events from any of our business tools will be affected.
Apple calls this new policy Private Click Measurement (PCM). PCM restricts data use across businesses and platforms. App to web and cross-domain measurement will no longer be supported. Ex: If a user clicks on an Instagram ad and converts on a browser, data will not be recorded.
Note: Apple has not released all details on how PCM will work. We will update as more information is provided.
FACEBOOK/INSTAGRAM UPDATES
In response, Facebook has created an alternative protocol called Aggregated Event Measurement (AEM) in order to support app to web attribution. Facebook created this by providing users additional context on how their data will be used which is covered in more detail below. This will apply to all Facebook advertisers for both Apple IOS and Android users and desktop as well. Facebook is working on a solution in regards to cross-domain measurement in the coming months.
Aggregated Event Measurement Update
8 Conversion Event Limit per Domain – Campaigns can only optimize and report on 8 events per domain (i.e., add to cart, purchase, lead, etc.). This will include events across multiple pixel IDs. Any campaigns optimizing towards more than 8 events will be paused automatically by FB. Therefore, it is recommended to remove any non-active FB pixels from your site. USIM will help verify domains and configure events to avoid any disruptions to your campaigns

For any accounts utilizing Value Optimization, each event will be counted as 4 vs 1

Attribution Window Updates

Currently, USIM's/FB's default attribution window is 28-day Click and 1-Day View
28-day click and view will no longer be available
7-day click and 1-day view will be partial. Partial excludes cross-domain conversions and Apple users who have opted out of data tracking
1-Day Click will use a modeled window. Cross-domain conversions will be excluded and FB will add in a "modeled" estimation due to signal loss
Reported conversions are expected to decrease with this update and USIM will work on downloading historical data to provide an estimated percentage of loss

Conversion Event Breakdowns – Breakdowns like Gender, Age, Location, etc. will no longer be available for conversion metrics. Breakdowns for other metrics like engagements, reach, etc. will still be reported
Optimization and Targeting – Performance is expected to decrease across all campaigns as the number of available conversions for auto-optimization will be reduced. Website custom audience sizes will also decrease.
ACTIONS ADVERTISERS CAN TAKE
Verify your website's domain to help avoid any future disruption of your website campaigns. Domain verification must be done for the effective top-level domain plus one (eTLD+1). For example, for www.books.jasper.co.uk, books.jasper.co.uk and jasper.co.uk, the eTLD+1 domain is jasper.co.uk.
Configure 8 preferred web conversion events per domain in Events Manager. Aggregate Event Measurement limits domains to 8 conversion events that can be used for campaign optimization.
Expected Impact to Advertisers
Advertisers can expect conversions to decrease but performance will vary greatly across campaigns. For a higher value (like membership purchases) larger drops are expected, but for a lower value KPI like sweepstakes lesser declines are anticipated. Below are estimated conversion decreases by KPI: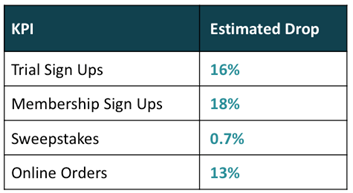 In addition to a drop in conversion performance, a decrease in universe size for conversion-based audiences is also expected. Ex: Retargeting pool for users who've converted will be smaller because the attribution window is reducing from 28-day click and view to 7-day click and 1-day view.
NEXT STEPS
Facebook's IOS 14 official release date is February 16, 2021. This is pre-emptive action to Apple's IOS 14 update which is still anticipated to be in March or early Spring.
USIM will do the following to prepare for the expected updates.
Assist clients with domain verification and configuring their event tracking
Download past data to include all attribution windows and relevant conversion breakdowns
Provide an estimated drop in conversion per client
Get in touch with USIM now!
Learn how USIM can grow your business
Contact Us