Apple Safari Intelligent Tracking Prevention (ITP)
September 4, 2017
What's happening
ITP is an anti-cookie tracking feature.
Apple is limiting ad tracking on its Safari browser by replacing user cookie preferences with a set of Apple-controlled standards. The feature, which is called "Intelligent Tracking Prevention," limits how advertisers and websites can track users by putting in place a 24-hour limit on ad retargeting.
How ITP Works
Intelligent Tracking Prevention uses a machine-learning model to identify which sites a user is interested in and therefore which cookies it allows to track the user. As an example: Say Intelligent Tracking Prevention classifies example.com as being allowed to track the user as the user has visited the example.com site. Example.com can then use that cookie to retarget the user in a third party context. However, after 24 hours the cookie cannot be used to retarget the user in a third party context unless the user revisits example.com again. After 30 days, the cookie is purged entirely from Safari.
Apple says the intent is to ensure that users only have persistent cookies from sites they interact with while tracking data is continuously cleaned out. Intelligent tracking prevention doesn't block ads.

Impact of ITP on Advertisers
Retargeting in Safari will be limited to the first 24 hours that a cookie is placed.
Conversion measurement in platforms like DoubleClick Campaign Manager (DCM) will be impacted.
Apple's restrictions on retargeting data could hurt conversions and reduce reach by making it harder for advertisers to find users who fit specific demographics.
Safari is used by 33.6% of all United States Internet users, 51.66% of mobile users and 10.39% of desktop users, according to data from StatCounter.
Most conversions typically occur more in desktop where Safari market share is the least.
This doesn't impact in-app ads since cookies are not used, instead they use DeviceID as a common identifier.
 ITP Timing
iOS 11 was made available on mobile devices on Tuesday, September 19, 2017 and on desktop on Monday, September 25, 2017.
Adoption of iOS 11 is expected to take several months
80% is a general rule of thumb for adoption during the first few months
USIM's Point of View
Safari has always made it challenging to target and measure due to their default settings, which already didn't allow 3rd party cookies. The new release will block 1st party too but advertisers were already working at a disadvantage which makes this change impactful but not as drastic.
USIM Current and Long Term Plans 
Continue to optimize based on campaign KPI's.
Shifts in performance from iOS 11 will result in adjustments such as reducing the value or bid placed on an impression in Safari versus other browsers.
Test new re-targeting strategies for the first 24 hours in safari e.g. place a higher bid in order to ensure winning impressions.
Explore shifts in ad spend to more effective channels, if necessary
We expect innovation in digital ad tracking:

Google has already created a Google Analytics cookie to keep ad tracking in Safari intact for AdWords campaigns. Other companies have done similar.
Most networks and attribution companies already supplement cookies with more advanced fingerprinting techniques or data-driven modeling.
We expect there will be a ubiquitous identifier (like a Device ID) developed by a 3rd party provider which will identify users across browsers and apps, making cookies "old school".
Creative Option
Test Safari specific re-targeting creative with more urgency or immediacy in the messaging.
Currently it's too early to measure the level of impact ITP will have on cookie behavior and campaign performance. We will be monitoring closely, and testing as we see more iOS 11 mobile users in the market.
United States Browser Market Share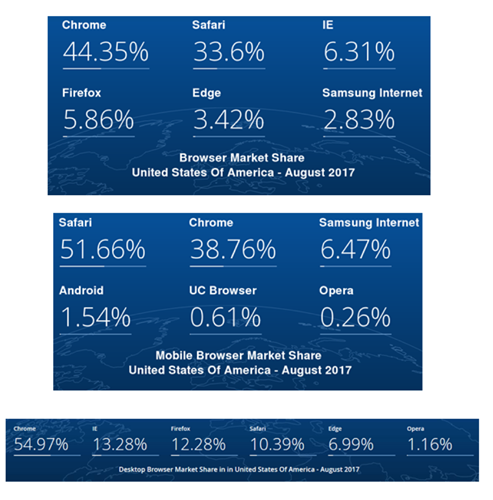 Note: Browser market share does not account for in-app activity.
Get in touch with USIM now!
Learn how USIM can grow your business
Contact Us