The Future of Voice Search
May 23, 2018
What's happening?
It's no secret that voice search is exploding. Kleiner Perkins Caufield & Byers 2017 Internet trends report specifically called out voice search, saying: "Voice is beginning to replace typing in online queries. Twenty percent of mobile queries were made via voice in 2016, while accuracy is now about 95 percent." (Recode, 2017)
Here at USIM, we reviewed the current state and usage of voice search, including who uses it, how they use it and we'll share some examples of how early adopter brands are already leveraging voice search.
What's the big deal?
Here's a look at just how much voice search has grown and the growth we expect to see over the next few years.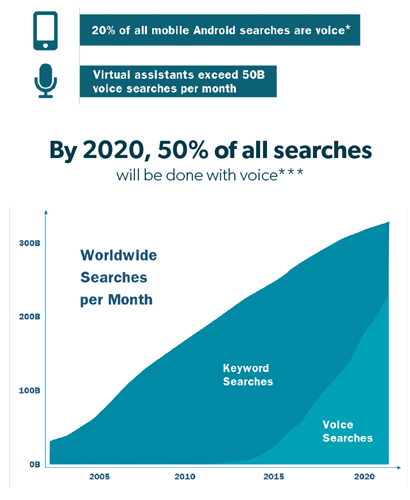 Source: MindMeld / *Google / **Microsoft / ***comScore
How and where are consumers using voice search?
The primary reason for voice usage is still convenience, but increasingly it's for other reasons where voice search delivers additional benefits over text search. We will see how voice searches are much more customized queries that deliver more specific results.
People prefer voice search for a number of reasons: greater speed and accuracy; its hands-free utility; but also better interaction – clearer understanding of search intent and answer read-back.
Voice search is being adopted at the greatest rate by those over 35. This has significant implications for how a lot of potential customers will be adopting this technology for discovery and purchase in the near future.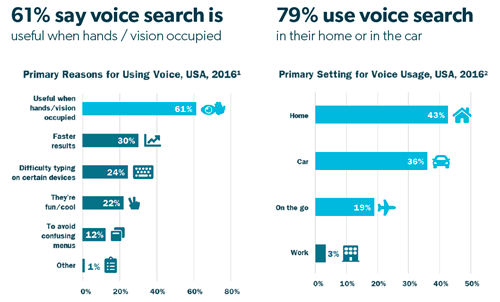 Source: SEM Rush
The smart speaker market is growing
Strategy Analytics, who have analyzed the growth of smart speakers said, "The rapid adoption of smart speakers is helping drive a profound change in the way in which consumers access information and services. Technology companies are recognizing that if they want to stay relevant in a post-app world, a voice interface is a critical component of any service or device that they offer." High profile content providers such as Spotify may look to build their own hardware to ensure visibility of their own services and drive customer growth.
Share of new shipments in 2018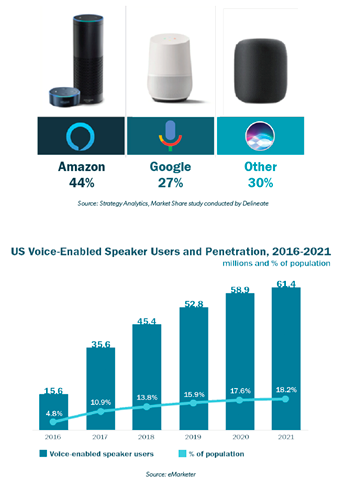 Affluent homeowners with children have the most smart speakers
comScore measured the current smart speaker market and show that the households they reach are really the premium households in the US. Higher income, with kids and with a highest index against the population for 35-44 year olds.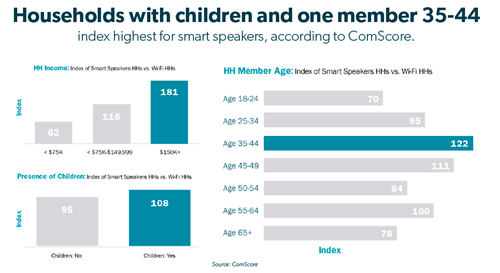 How is voice search different?
Voice searches are 'natural language', making queries longer and more specific. While the bulk of voice searches are still via a mobile device, voice search differs from a text search in a few important ways.
A voice search is typically longer and more specific than a text search (it makes sense if you think about how easy it is). Voice searches are more specific questions typically put in 'natural language' not the abbreviated wording of text search that can sometimes result in misdirected results (Example: "What Italian restaurants are open now in SoHo?" instead of "Italian restaurant SoHo".
We use voice search for all kinds of reasons
Smart speakers aren't only for listening to music or checking the weather – they are being used for an ever-increasing variety of tasks. They are a key part of the growth in smart household items (the 'internet of things') like smart lighting or smart thermostats. The list of what people are using smart speakers to order is expanding fast as well. Health & beauty, pet food / supplies and groceries are all growing quickly.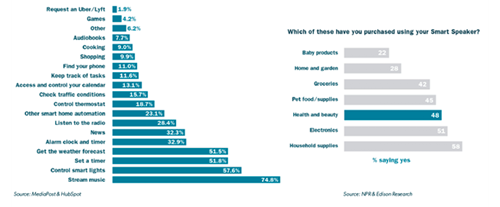 How can marketers optimize for voice search?
There are 5 key areas we want to look at:
Test long tail search (FAQs, questions and conversational phrases)
Assess potential integrations and placement opportunities
Ensure mobile-friendliness and fast site speed
Optimize Google My Business listings
Deploy relevant Schema tags
Test long tail search
We showed how voice searches are different from text searches and we believe there is potential advantage in testing some long tail specific words and phrases. We recommend considering testing creating paid search campaigns with keyword lists that include long tail keyword phrases. Since level of intent is easier to analyze, it would be possible to create ad sets catered to people at each different degree of intent. As voice queries are longer and explicit than a few typed keywords, voice search helps analyze degree of intent.
Example: A query of "What is an Instant Pot" reflects that the consumer is in the early stages or research. Someone with more intent to purchase would ask,"Where can I buy an instant pot near me" or "What price is an Instant Pot".
Deploy relevant Schema tags
Schema microformat tags are used to help Google understand specific pieces of information, like business names, contact numbers, addresses and operating hours. The better schema tags are optimized, the more likely your site is to be returned as a top voice search result.
Ensure mobile-friendliness and fast site speed
Google's organic ranking algorithm (for traditional search, image, video, and now voice) all incorporate speed as a ranking factor. The faster a site loads, the more likely it is to rank at the top of their results, and this is especially important for mobile/voice.
Optimize Google My Business listings
Google's My Business listings are utilized to populate data on the "map pack" or "map results" for traditional local searches. This same information is being incorporated into voice search, so it's vital that your My Business listings are fully optimized to cover all relevant business information. The more details you provide to Google, the more likely you'll be to get returned via voice search.
How are brands using voice search?
Some advertisers are already testing different ways to integrate with smart speakers and voice search. Clorox and P&G are testing promoted ads and searches through Alexa in 2018. For example: Alexa may suggest to a shopper who previously bought Clorox's Pine-Sol to consider buying its disinfecting wipes. You can see here that Colgate has integrated into Alexa in a more organic manner, creating an Alexa app (or 'skill' in Alexa language) that is focused on helping consumers to save water.
For a truly integrated program, Dunkin' Donuts incorporated an AI engine and Google Assistant with its DD Perks rewards program, creating another simplified path for customers to order.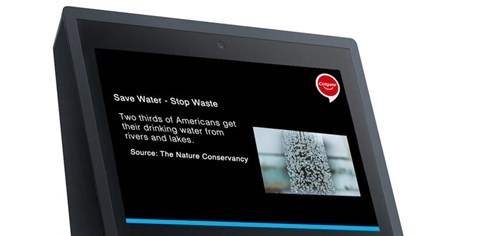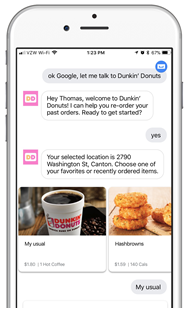 Colgate App Source: MarketingDive / Dunkin' Donuts App Source: Dunkin' Donuts
Sources
Digiday: Facebook will remove advertisers' other third-party data option, but loopholes, questions remain
Wordstream: Big changes to Facebook custom audiences: What you need to know
TechCrunch: Facebook plans crackdown on ad targeting by email without consent
9clouds: What Facebook ending partner categories targeting means for dealers
Get in touch with USIM now!
Learn how USIM can grow your business
Contact Us