USIM Explains Programmatic versus Linear Television and What You Need to Know
July 19, 2022
USIM Explains Programmatic Versus Linear Television and What You Need to Know!
Programmatic versus Linear refers to two different methods of purchasing linear television – Traditional Daypart/Program Based buying and Audience Based buying. The outcome of both methods is the same - a commercial or promotional spot airing on linear broadcast and/or cable.
In this article we will outline both varieties, how the buying process is analyzed, and if one (or both) are the best option for you to reach your marketing goals.
What Is Traditional Daypart/Program Based Buying and How Does it Work?
Traditional Daypart/Program Based Buying is based heavily on Geographic, Demographic, Behavioral and Contextual Targeting as determined by Strategic Media Planners.
Planners will examine research on demographics and behaviors of the potential prospects for the clients' products or services, and identify target demographics and behaviors, as well as contextual opportunities that match with the advertised offering.
The result of the planners' work is buying instructions that identify the number of gross rating points (GRPs) to be purchased each week of the buy, how many should be placed in each daypart, and what specific networks and/or programs should be included.
What Are the Different Types of Targeting Available?
As mentioned above, traditional Daypart/Program Based Buying is based heavily on defined industry standard targeting parameters. Each one explained in more detail and how planners use these targets when making decisions for media buying and planning.
Geographic Targeting
Planners identify the geography within which the advertising is to air. Daypart/Program based buys can be national or local.
 Local buys can be made to cover the entire Designated Marketing Area (DMA) using local television stations and/or cable interconnects (i.e. full market coverage using multiple cable systems), or less than full market coverage using selected cable systems.
 Less than market coverage can be along county or zip code boundaries.
Demographic Targeting
Using secondary research sources like MRI, planners will examine the age, income, and other attributes of those who use or show propensity to use products or services being advertised by the client.
 Those attributes are then matched to television dayparts, i.e. Early Morning, Daytime, Prime, etc., and to specific cable networks, and even to specific programs airing within these dayparts and on these networks.
 Buyers will then be directed to purchase spots accordingly.
Behavioral Targeting
Using the same or similar research, planners will determine if there are certain behaviors that prospects exhibit, i.e. cooking, outdoor activities, reading, attending live events, etc.
 This data can further define dayparts and networks, most useful in identifying specific programs and types of programs that buyers should try to include in the schedule.
Contextual Targeting
Planners will also provide buyers with target programs and/or networks where content matches closely with the advertised product or service.
 Examples include cooking shows for food products, financial networks or shows for investment products, Auto Sports for aftermarket auto products, etc.
What Should You Expect to See From Your Media Buyer and Planner
Now that the decisions have been made by your media buyer and planner, it doesn't stop here. As a client and customer, you also have access to reporting, analytics, logs, etc.
Upon completion of a Daypart/Program based buy, and before airing, clients should expect to receive the following:
Buy Sheets - shows what networks/stations, dayparts and programs have been purchased and the number of spots to air each week of the campaign
Pre-log Reports – provided on a weekly basis that show the exact time each spot will air, and the purchased number of GRPs versus the goal established by the plan
Added Value Reports – includes bonus units, program sponsorship, billboards etc.
Post-log Reports - as the schedule is airing (and on a weekly basis) clients may receive post-log reports showing the exact time each spot aired, which can be used for attribution (website visits, sales, etc.) through platforms like CORE, TV Squared, etc.
Post-buy Analysis- After the schedule airs, clients can receive a post-buy analysis showing the number of actual GRPs delivered by each network/station during the campaign. Vendors failing to deliver 90% of negotiated GRPs, are required to make up the difference in future buys.
What is Audience Based Buying or Programmatic?
Audience Based Buying or Programmatic is automated, data driven, and seeks to find programming where the target audience will be found, regardless of the content being viewed.
 Buying linear television in this manner offers more direct targeting, and typically does so at a more attractive price.
 As stated, Daypart/Program based buying relies on planners and buyers examining research to identify the kinds of networks, programs and dayparts that appeal to the target. 
 Audience Based Buying is done through automated platforms/systems, which employ 3rd party data  to find the target wherever they may be viewing across the linear television landscape.
 For example, a Daypart/Program based buy for a book publisher can be based on the kinds of programs that MRI research shows are popular with readers of a particular genre, while Audience Based buying can be based on Amazon data that reflects behavior of purchasers of these kinds of books.
How Are 3rd Party Vendors used in Audience Based Buying or Programmatic?
Data access is key to successful Audience Based Buying and most trading desks, including USIM's access data from companies like:
Experian
Oracle
Amazon
Transunion
How Does Targeting Work in Audience Based Buying or Programmatic?
In addition to the data from 3rd party providers, Audience Based Buying can also add all the targeting techniques utilized for Daypart/Program Based Buying (Geographic, Demographic, Behavioral and Contextual).
Specific networks/stations/program types can be specified, but the more limitations placed on the system will limit its ability to accumulate potential inventory.
The best use of Audience Based Buying is allowing the audience overlays to drive the campaign towards the target audience across the entire linear landscape to find the most, and best prospects for the clients' goods or services. 
For example: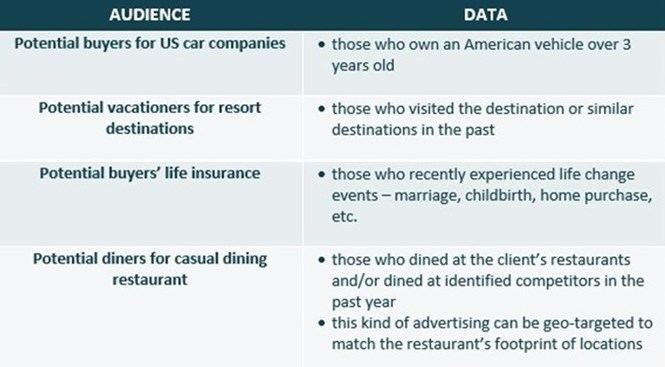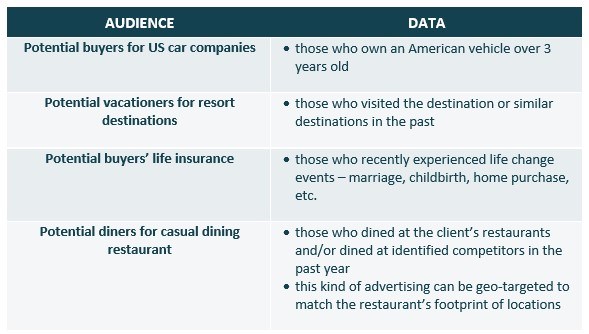 Audience Based Buying is not without its limitations. As an automated system there is no pre-buy reporting as there is with Daypart/Program Based buying. 
Clients will get reporting during the campaign and upon completion that will show where the spots aired. Importantly, content that is deemed unacceptable can be eliminated as part of the buy set-up.
The only added value a client will receive is in the form of additional no charge spots, and there is not an opportunity for sponsorship of segments or programs. Reporting on the campaign is by post logs like Daypart/Program based buying and can be used to provide attribution using platforms like and TV Squared.
Deciding Between Audience Based and Daypart/Program Based Buying
Audience Based Buying
Audience based buying uses audience overlays to target the specific audience where they are consuming media. It is based on impressions rather than Nielsen based cost per points and in some cases can be more efficient  
As such, it is the preferred method for those buys with no specific client requirements for pre-buy reporting, or strategic imperatives relative to specific networks, programs, sponsorships, dayparts, or weight/spending per market.
As mentioned, you can put constraints on Audience Based Buying to accommodate some of these requirements, but the more constraints, the less targeted based on data, and the higher the CPM.
This negates the value of the approach. Maximum value from Audience Based Buying is derived when all impressions are delivered to potential targets wherever and whenever they are viewing.
Clients who need to review and approve buy specifics pertaining to specific daypart allocation, stations/networks, spots per week, weight per market, etc. prior to booking are not candidates for Audience Based Buying. Reporting on Audience Based Buys is available during the campaign and after completion.
Daypart/Program Based Buying
Campaigns that lean heavily on contextual targeting as a strategy should us Daypart/Program Based Buying.
Food products that want to focus on cooking shows, auto aftermarket products that want to be associated with motorsports content, and other brands executing this kind of strategy, are not candidates for Audience Based Buying.
Hybrid Buys That Incorporate the Best of Both Methods
The common belief is that a buy needs to be made by one method or the other. This is generally true, because stations will not negotiate with two different buyers for the same buy for the same time.
USIM, however, has found that separating certain elements of the buy, and executing some elements as Audience Based, and some as Daypart/Program Based, offers the client the best buy possible.
Food Client Case Study
A food client with limited budget wanted the most targeted and efficient buy possible. A critical part of the strategy, however, was to air on food networks and programs and secure added value in terms of sponsorships and product placement.
USIM Strategy
USIM isolated those properties that were contextually aligned and where added value could be secured, and made this portion of the buy through the Daypart/Program Based approach.
Media Approach
The Audience Based approach was then used to execute the remaining budget at maximum efficiency, eliminating the properties being negotiated by Daypart/Program buyers.
The Results
The result was a buy offering maximum efficiency against a data driven target, and contextually aligned high profile sponsorships and product placements.
Government Client Case Study
A government, cause-related client wanted to take advantage of the targeting and efficiency offered by the Audience Based approach, but was apprehensive about not having pre-buy reporting to share with internal and external stakeholders.
USIM Strategy
In this case, USIM separated the buy into weeks, employing each buying approach on an every-other-week basis.
The Results
The Daypart/Program Based portion of the buy provided all the necessary pre-buy reporting the client needed, and the Audience Based portion drove both targeting and efficiency.
Overall, the best practice in deciding between the two methods is to thoroughly understand the strengths and weaknesses of each, and to fully vet the client's strategy and needs.
Only then can planners decide the best buying approach, or best combination of creating the desired outcome.
USIM and Next Steps for Developing Your Media Planning and Buying Strategies
When developing your marketing plans for future campaign and initiatives, consider leveraging programmatic and/or linear marketing into your budgets and overall marketing plans. This strategy and tactic allows your brand or product to extend its reach and integrate your brand within traditional media channels with a more targeted and efficient approach.
Work with your USIM team to evaluate potential partnerships, outline and define goals, execute effective activations, and drive success for your brand.  For more information on how we can help optimize your media marketing strategy, connect with your individual planning team in order to discuss next steps.
Get in touch with USIM now!
Learn how USIM can grow your business
Contact Us