USIM Perspectives: Understanding Identity Resolution
July 20, 2021
What Is Identity Resolution?
Identity Resolution is the process of attributing customer behavior and interactions across all touchpoints, platforms, or channels to a singular unified customer profile. Any team across an organization can use this profile to better serve each individual customer.

While Identity Resolution might initially seem simple, the number of touchpoints customers can have with a business has increased significantly. This is due to the increase in the number of devices used by an individual over the years. For example, a recent Google study has found that 90% of web users move between devices to complete a task (i.e. initial research on a product may be done on a mobile device while a final purchase could be on a desktop/tablet). Identity Resolution allows marketers to gather data across all screens to tie all activity to one individual user.

Why Is Identity Resolution Important?
The importance of Identity Resolution is due to the level of insights that can be gleaned. Some common uses for Identity Resolution are as follows:
Understand and analyze unknown website visitors

A majority of visits to a brand's website are anonymous. Identity Resolution allows marketers to reconcile anonymous visitor data with known visitor data to gain deeper insights into customer behavior.

Establish consistent consumer experience across multiple touchpoints (e.g., mobile apps, mobile browsers,
desktop apps/browsers)

Because customers are no longer using just one touchpoint and interacting with a brand via multiple touchpoints (e.g., mobile apps, desktop, tablet, CTV, etc.) brands should ensure that customers have a consistent experience regardless of device.
Identity Resolution Increases Marketing Effectiveness
Many marketers are reduced to working with a limited or partial view of their customers based on information collected from disconnected interactions. As an example, they may not know that a certain device ID matches a certain desktop user ID. Because of this, their targeting may not be as efficient as possible if they aren't able to understand when they are reaching the same user across different devices.
When implementing Identity Resolution, marketers will be able to merge these disconnected profiles to limit duplication and ensure their targeted messaging is relevant to the customer.
Who is Currently Using an Identity Resolution Solution and What Companies Provide this Service?
Most major advertisers are currently using some form of Identity Resolution even if they are merely uploading their CRM to be activated against paid media channels such as Google, Amazon, and Facebook. There are several companies with an Identity Resolution solution in the marketplace with a few of the key players listed below:
Akamai
Epsilon
Experian
LayerFive
LiveRamp
Neustar
Transunion
Zeotap
It is important to note that given the nature of how these touchpoints are collected (e.g., registrations, purchases, email sign-ups, loyalty programs, location data, etc.) all data used to build out Identity Resolution solutions are compliant with current privacy laws.
USIM's Recommended Best Practices to Implement Identity Resolution
As marketers look to implement best practices for Identity Resolution, it is critical for brands to gather 1st party data and permissions from their user base to make use of an ID Graph is permissible. The benefits of this approach include:
Ability to be used as seed data to make significantly more impactful lookalike audiences using the Identity Resolution solution
Enable better customer relationships through message management and cross-selling
Ability to exclude current customers from acquisition marketing efforts to create better efficiency and more accurate performance reads
Allow for missing fields (e.g., email addresses, phone numbers, mailing addresses, etc.) to be completed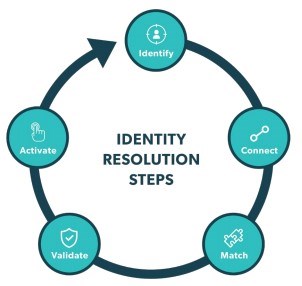 To Begin Building Out an Identity Resolution, the Following Steps are Recommended:
Identify which platforms, devices, and channels are part of their customer journey map
Connect the dots between platforms, devices, and channels along the path-to-purchase
Match individuals to each device/platform based on a defined set of attributes. If possible, leverage a deterministic approach that will revolve around resolving identities based on who is known to be a true consumer (e.g., phone numbers, email addresses, device IDs, etc.)
Evaluate all owned and operated platforms to audit customer experience to ensure uniformity
Validate individuals to ensure the same user identified is correct across platforms/devices
How Can USIM Assist in Identity Graph and Resolution Build-Out?
USIM can assist clients in building their 1st party databases, which is the foundation for Identity Resolution. Some examples of current capabilities include:
Raising awareness/intent through paid media to drive engagement with owned brand assets/properties
such as web visits/sign-ups
Lead-generating campaigns via performance channels such as paid search paid social, and display
CRM build-out assistance and best practice management
With the continued build-out and scale of 1st party data, USIM will be able to help clients match, append, and
resolve against leading industry data providers such as TransUnion, Experian, Acxiom, Oracle, etc.
Connect With Us
If you'd like more information on Identity Resolution, please contact us at 949.668.6200 or email
info@theusim.com.
For more USIM Perspectives, connect with us today.
Get in touch with USIM now!
Learn how USIM can grow your business
Contact Us