What is Addressable TV & How to Buy it?
June 7, 2021
Addressable TV is a newer form of television advertising that allows marketers to deliver ads to specific, desired households during linear scheduled TV programming.
This process allows you to serve ads to specific, targeted audiences, based on a variety of location, demographic and behavioral criteria, letting you target individual households instead of having to blast ads across the program's entire audience.
This article will introduce you to addressable TV, explain the reasons you'd want to consider using it, and help you determine how best to proceed should you choose to adopt it for your marketing efforts.
How Does Addressable TV Advertising Work?
Addressable ads are delivered through the set-top box and digital inventory providers. It runs during 2-minute local cable breaks on MVPDs like Comcast, Ampersand, Xandr, Dish, and Verizon and across the digital OTT/CTV landscape.
Ads can be bought regionally, or by market, though we suggest using Addressable for national buys or in large regions due to the targeting aspects that shrink potential audience sizes.
With addressable TV, you're able to use first-party data to match clients to specific households, letting you deliver ads to only those audiences you're most interested in pursuing.
If you don't have access to first-party data, third-party data can also be used to identify targeted audiences across the 62 million linear households in the United States and the cord-cutting/cord never universe.
Full-circle reporting direct household ad insertion allows marketers access to real-time creative distribution, making this an incredibly targeted tool to reach and report on your desired audience.
Why Should You Consider Purchasing Addressable TV?
The main reason to consider purchasing Addressable TV is that it helps eliminate ad-waste and improve performance by only showing ads to targeted households.
For example, it's possible to set up an audience profile like Adults Ages 25-54, with a passport, with a propensity to travel to the Caribbean, and show ads to only that audience, ensuring that all ads you purchase will be shown to potential clients with high interest in traveling to the Caribbean who fall into the exact age/income bracket.
Addressable TV is understandably more expensive compared to linear TV due to its targeting capabilities and data sophistication, but results are likely to be significantly better.

Does Addressable Replace Linear TV?
Addressable ads aren't a replacement for linear TV advertising, but should instead be thought of as an advanced way to buy your target audience across the Linear TV and OTT/CTV landscape
Traditional TV
Traditional TV could only target age/gender across the entire linear landscape, basing measurements on the ratings of that age/gender group.
Traditional TV is also bought upfront or in the scatter market, which forces you to buy inventory based on a TV show, not an audience, and against its rating point, hoping that it will reach your actual intended target audience, leading to lots of waste.
Addressable TV
Addressable TV allows you to use data segments in addition to age/gender to purchase extremely specific audiences, instead of basic age/gender groups.
For example, via Addressable TV, you can purchase ads to be shown to Adults 25-54 who travel to the Caribbean, have a valid passport, and an HHI of $100,000 or more.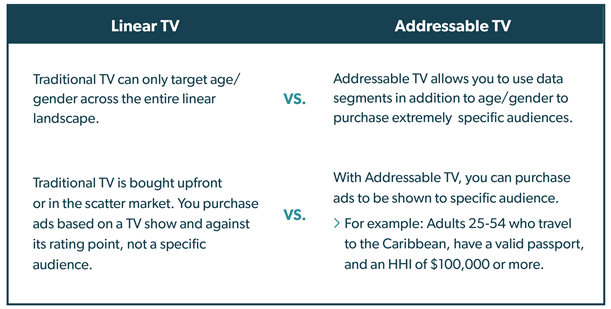 Once you've selected your target audience for an Addressable campaign, the data segment is loaded into the set-top box and OTT/CTV inventory sources are then matched to households that satisfy your targeting criteria so that ads are only shown to those households who are a direct match.
While Addressable remains costly at present, as TV moves more digital, pricing will come down. All Smart TVs also offer Addressable TV capabilities, so consumer adoption for Smart devices will further reduce barriers to Addressable advertising.
Is Addressable TV Similar to Programmatic Digital Advertising?
No, Addressable TV doesn't include real-time bidding, self-serve platforms, DMPs that allow you to directly pull data for your campaigns.
Instead, Addressable TV is more of a manual process, and you'll have to work with multiple MVPD and OTT/CTV outlets separately to build out a data segment that matches your intended target audience first.
Next, the MVPD and Digital outlets match the custom-defined data segment against their target subscriber and audience base to serve ads to the target households.
As a result, Addressable buys have to be executed separately with each MVPD and Digital inventory provider. Should you run your buy through an Agency like USIM, we'll aggregate the buy information to provide a holistic view of the buy and results.
Why Don't All Cable Providers Offer Addressable?
Addressable TV was built on top of the legacy linear TV landscape, and since each cable provider has its own set-top box, with different makes, models, and capabilities, some of the smaller providers can not offer Adressible functionality. This is a constantly changing media format and continues to grow, increasing capabilities to purchase across the entire household landscape. 
As TV goes digital, linear Addressable TV will eventually fade away and CTV will take over as the predominant way to purchase well-targeted television ads.
What To Do If You Want to Test Addressable TV
USIM combines the power of data with the scale of digital marketing to deliver targeted media impressions to the right audience at the right time via Addressable TV advertising. 
Our team will ensure that your budget is used where it works best to deliver a successful campaign that maximizes return on investment.
Our leadership and foresight in the industry were recognized when we received the Programmatic Agency of the Year award from MediaPost for 2015, 2016, and 2018, and we're ready to leverage our expertise as industry leaders to optimize your approach to programmatic media. 
For details on how we can help, please call us at (310) 482-6700, or fill out our Contact Form.
Get in touch with USIM now!
Learn how USIM can grow your business
Contact Us