Influencer Marketing in an Increasingly Remote World
March 21, 2022
In addition to standard media channels, influencer marketing has become a highly effective and impactful way for brands to reach their audiences. Read on for a deep dive into influencer marketing and how it works, when to determine if this is the right fit for your campaign, a highlight of best practices, and case studies on behalf of USIM.
What Is Influencer Marketing?
In the simplest terms, an influencer is someone with enough social and interpersonal capital to influence the opinions, actions, and even decisions of its audience. Types of influencers can include celebrities, non-celebrities, bloggers/vloggers, social media influencers of various classifications, and key opinion leaders (KOLs). Influencer marketing allows a brand or product to leverage an established influence by collaborating with the influencer to drive brand awareness, promote their product/message to a specific audience, and ultimately increase or drive sales.  
Influencer marketing is not a new phenomenon, and we have seen it evolve over time with emerging technologies and platforms. This form of marketing originated with celebrity endorsements and has existed on record as late as the 1700s. For our purposes, most of us can remember the infamous Michael Jordan on the Wheaties box of cereal.  
As brands continue to shift more marketing dollars to digital channels, influencer marketing has pivoted in its focus to social content creators reaching niche audiences. Many of these influencers can build a strong relationship with their targeted audience which gives them a highly engaged and dedicated following. Brands can take advantage of this established connection through these partnerships to drive awareness, consideration, trust in the brand, and ultimately purchase of their goods and services.  
When it comes to a platform of choice, influencers can maximize their reach through content that has longevity in shelf-life and opportunities for engagement. As shown on the table below, Instagram remains top of the pack, with Facebook and TikTok tied for a close second. Pinterest, Snapchat, Twitter, Twitch and blogs are still utilized depending on the influencer contracted.
Which Social Media Platforms are US Marketers Planning to Use for Influencer Marketing?
*% of respondents, FEB 20 vs. March 2021
 

Dec 2019

March 2021

Instagram

97%

93%

Instagram Stories

83%

83%

TikTok

16%

68%

Facebook

79%

48%

YouTube

44%

48%

Instagram Reels

-

36%

Pinterest

29%

35%

Twitter

35%

32%

Snapchat

16%

26%

Blogs

24%

25%

Twitch

5%

13%

Source: Lingia, "The State of the Influencer Marketing 2021," April 20,2021
Types of Social Media Influencers
While the term "influencer" is still often associated with mega celebrities (such as the Kardashian family), there are many different levels of influencers defined by their audience sizes.
Here are the different levels of influencers based on audience size:

Nano Influencers – social media following of under 10k
Micro Influencers – 10-100k followers
Macro Influencers – 100k to 1MM followers
Mega Influencers – more than 1MM+ followers
It is worth noting that a social media influencer having a smaller audience size does not necessarily mean the marketing influence they wield is less valuable. In fact, the focus of many nano and micro influencers with a specific niche or category, can lead to stronger follower bonds and engagement. This is typically due to their depth of knowledge and shared passion for a given topic, as well as greater accessibility to their followers.
As each influencer is different, costs for specific activations will vary depending on size of influencer as well as the number of posts a brand is able to contract with them.
How Can Influential Marketing Be Beneficial for Your Brand?
Depending on the KPI's of your brand and campaign, influencer marketing can be beneficial in a number of ways:
Improve Brand Awareness – Partnering with influencers expands a brand's reach through their direct connection to a specific audience. This allows for audiences to learn about your brand beyond traditional paid media.
Build Brand Trust and Authority –Partnering with an influencer offers credibility and a level of trustworthiness for the brand or products being promoted. This is generally the case if that influencer is a trusted authority in the category, subject, or vertical.


Drive Purchasing Decisions – When executed in a strategic way, influencer activations can have a direct influence on purchasing decisions within a target audience. Not only does this come from the halo effect of the endorsement or recommendation by the influencer, but it can also be built into a campaign via direct links, coupon codes, or other purchase incentives.


Stay Relevant and Align with Trends – Influencers who are experts in certain subjects are typically aware of trends in those categories and maintain topical relevance and engaging communication. Influencer partnerships allow brands to leverage this strategy ensuring additional relevancy and consumer connections.
In addition to these advantages, influencer marketing can also generate long-term benefits from the relationships built, both with the target audience and the influencers themselves. For example, influencers may become brand ambassadors, continuing to engage their followings with mentions and features about a brand or product, which in turn builds more trust and loyalty long term.
Choosing the Right Influencers
Picking the right influencer(s) to align with your campaign is crucial and can be daunting. The influencer space is cluttered and can be challenging to navigate. You will need to consider several key factors when choosing the right influencer including effectiveness, value, hard costs, and engagement levels. While there are third-party services which leverage their influencer platforms to determine the best match for each individual brand, it is important that brands always consider the following:
Determine Campaign Goals – What is your campaign's primary purpose and KPIs? It is crucial to define this early on to properly evaluate what influencer type is best for your campaign and if this is a relevant strategy for your brand. Influencer campaigns are typically best for upper or mid-funnel objectives such as awareness and consideration. Although, with the right activation it can also help drive lower-funnel KPI's such as conversions and leads.


Define Your Target Audience – Defining your intended audience for your campaign will help you to actively begin researching and evaluating potentially relevant influencers. The more audience attributes that can be identified outside typical demographics will help you narrow in on a relevant influencer for your intended audience.


Set Your Campaign Budget – Set realistic spend parameters for your campaign by illuminating the influencer type, audience size, typical rates, and activations to best reach those goals and KPIs.


Audience Alignment and Reach – Evaluate influencers on how their content aligns with your campaign. For example, if your target is Females A 25-54, ensure that the influencers you evaluate are consistently creating content that connects with that group and is relevant to that audience.


Audience Quality – It's crucial to determine that their following is authentic. There is unfortunately a common practice of influencers "buying" followers who are ultimately fake accounts to give a false representation of their actual reach. It's important to check frequency of posts, types of posts, and engagement numbers to make sure their following is organic and real.


Content Quality and Authenticity – Brands should allow for a certain amount of 'creative freedom' to ensure that while the branded message is communicated, the influencer retains their authentic share of voice. Therefore, it is necessary for advertisers to evaluate the influencer's content prior to the partnership to ensure it meets the advertiser's quality requirements.


Reliability and Professionalism – Look for influencers who are strong communicators, not only with their audiences but with advertisers. It is important that they are flexible and have their own process for branded content and marketing activations. This will allow for a nimble, streamlined way of working for both influencer and brand.
Contracting and Activating
Navigating the world of available influencers can oftentimes feel overwhelming as it may seem there is an abundance of choice. While brands can contract influencers directly, most transactions will be represented by either third-party agencies or leverage thirty-party influencer platforms. For brands, it is usually recommended to engage with a third-party platform such as Pharris Media, IZEA, FindYourInfluence, and many others. These third-party platforms can establish relationships with influencers at scale and provide services to properly vet influencers, manage contracts, maintain quality control, and deliver campaign analytics.     
While not all third-party platforms function the same, the process typically involves an agency to respond via Request for Proposal (RFP) through the platform. From there, a sample talent pool would be presented that aligns with the campaign parameters. This allows the brand to ensure they are engaging with the most relevant influencers who will be able to create content that is compliant with terms of the program and achieve the client objectives.
As an example, if a pet brand wants to source influencers to promote their new product, a third-party platform will notify relevant influencers who may have pets of their own, be pet enthusiasts, and/or have a history in creating pet-related content. From there, the third-party will vet the influencers following, authenticity, reach, and overall relevance to the campaign. Once a relevant group of influencers has been selected, the next step is to establish terms around the cadence and amount of content, usage rights, and measurement, etc.
Although third-party platforms and services can handle most of the heavy lifting when it comes to sourcing and evaluating influencers, it is still imperative for the brand and/or agency to consider all attributes of the influencers presented and aligns with the brand's values and objectives. Not to be over-looked, always ensure proper time for evaluation is built into your activation timeline when including influencers as part of your digital marketing plan.   
Social Media Influencer Campaign Best Practices
When you begin working with your selected influencer(s), keep these key considerations in mind:
Allow the influencer(s) to maintain their authentic voice
Highlight the brand or product without making content feel overly produced
Ensure the content created aligns with the campaign goals
Make sure you are able to supply product (if applicable) in a timely manner to maintain the agreed upon content schedule
Leverage a key opinion leader (KOL) where possible for more niche products as these leaders tend to have more clout and influence with their intended audience
Ensure the usage rights for the brand and influencer are agreed upon
Measuring Influencer Campaign Performance
After defining your campaign goals, contracting, and evaluating influencers who are appropriate for your campaign, you must now determine how you are going to measure and define success. Based on your campaign objectives, defining the correct KPIs will be crucial to establish benchmarks and learnings for future campaigns.
Influencer campaigns typically tend to focus on upper or middle-funnel metrics though it's not uncommon to leverage influencers to drive conversions. Typically, KPIs that are used to evaluate influencer campaigns include (but are not necessarily limited to) the following: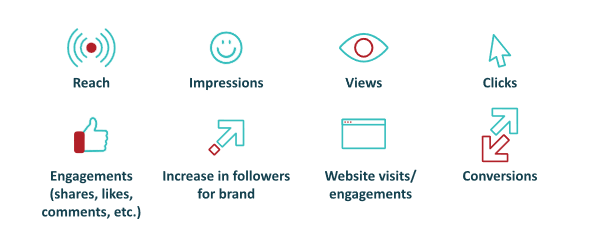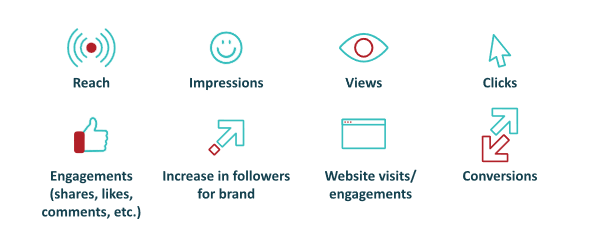 Reach
Impressions
Views
Clicks
Engagements (shares, likes, comments, etc.)
Increase in followers
Website visits/engagements
Conversions
Influencer Marketing Case Studies
USIM has activated many influencer media campaigns on behalf of our clients with much success and this marketing channel continues to be a priority depending on the objectives and business goals of our clients. Each campaign is developed, executed, and analyzed with specific, measurable, achievable, relevant, and time-bound (SMART) goals in mind.
USIM client, Buffalo Wild Wings, had a goal and challenge to generate awareness around the return of in-restaurant dining becoming available after COVID-19 restrictions had been eased. USIM  identified that influencer marketing would be an effective strategy to meet their goal and KPIs.  The USIM team worked with a highly strategic influencer platform to identify relevant influencers who then created original content while visiting specific restaurant locations and dining-in with family members.
The campaign proved to be successful as multiple influencers created Facebook, Instagram and TikTok posts highlighting photos and videos taken at the restaurants that the brand was then able to share on their own social channels driving awareness and engagement. The campaign was measured based on the awareness goal set at the launch of the campaign.
Campaign highlights include:

246M+ reached
188M+ video views
23M engagements (shares, likes, comments)
57M views on TikTok alone
3M clicks to advertiser site
Screenshots of Buffalo Wild Wings influencer campaigns:
TikTok - @dragekamerman , 2.9M Followers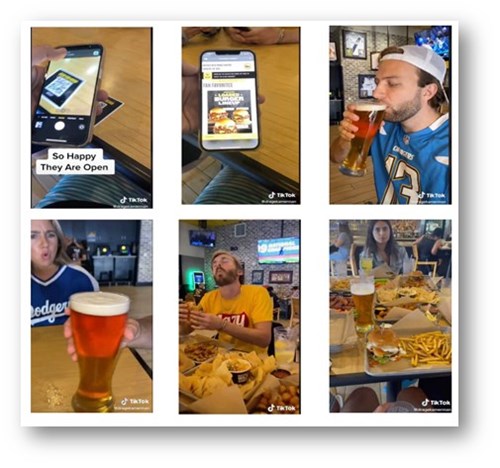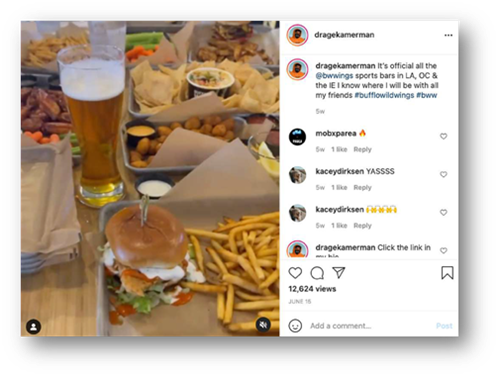 TikTok - @keo.hogains, 469.3K Followers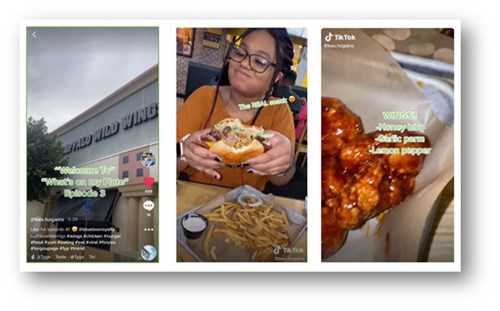 USIM and Next Steps for Influencer Marketing
When developing your marketing plans for future campaign and initiatives, consider leveraging influencer marketing if and when possible. This strategy and tactic allows your brand or product to extend its reach and integrate your brand outside of traditional media channels.
Work with your USIM team to evaluate potential partnerships, outline and define goals, execute effective activations, and drive success for your brand.  For more information on how we can help optimize your influencer marketing strategy, connect with your individual planning team in order to discuss next steps.
Resources, Sources and References:
https://sproutsocial.com/insights/influencer-marketing/
https://blog.hubspot.com/marketing/how-to-work-with-influencers
https://blog.hootsuite.com/influencer-marketing/
https://influencermarketinghub.com/pick-the-right-instagram-influencer/
https://izea.com/influencer-marketing/
https://influencermarketingagency.com/10-benefits-of-influencer-marketing.html
https://www.oberlo.com/ecommerce-wiki/conversion-funnel
Get in touch with USIM now!
Learn how USIM can grow your business
Contact Us