The Role of Digital Owned Assets in the Growth of Market Share
June 28, 2018
What's happening?
USIM's Rob Jayson, in collaboration with Martin Paul Block from Northwestern's Medill School of Journalism & Marketing have published two papers that detail the important role a brands owned assets (like website and Facebook page) play in increasing market share. The studies measure different brands share of their categories total traffic to those owned assets compared to those brands share of paid media in their category.
The papers illustrate a build on John Philip Jones' share of market/share of ad spend work from the 1990's that demonstrated how larger brands successfully reduced their share of paid media advertising. This work shows how successful brands that have grown market share in their category actually increased their category share of traffic and engagement with their owned media sites, while reducing their share of paid media spending.
The study observed the relationship between paid and owned media and sales across 802 brands in the US market.
— 56 categories (i.e., Credit Cards) within 15 industries (i.e., Financial Services) from 2010 to 2015
— Brand sales data are from Bloomberg, Euromonitor, 10k and 10Q annual reports
— Brands' online and offline media spending is the metric of paid media input and is collected from Kantar and Pathmatics
— Owned media input metrics are the unique visitors (UV) to brands' desktop and mobile sites from comScore
— The other owned media input metrics are fans' acquisition and interactions on their social media sites (Facebook, Twitter, YouTube and Instagram)
To illustrate our findings we plotted out for different categories and contrasted 'rising' brand (greater than 3% CAGR over the last 5 years) with 'declining' brands (lower than -3% CAGR over the last 5 years), all of which showed similar patterns.
Below, we show QSR as an example, with 'rising' brand on the left increasing their share of owned media traffic, while 'declining' brands on the right increased their share of paid media.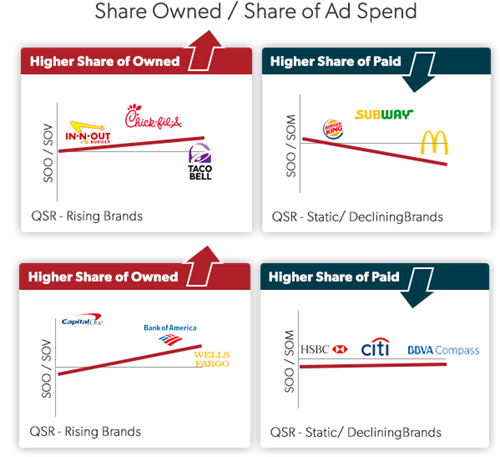 Above, we show a similar pattern for retail banking contrasting behavior of 'rising' brand to 'declining' brands.
Digging deeper into the data, we further found two important sub-metrics in the data that corresponded with declining market share
1. Lower % of total web site traffic achieved via mobile
2. Higher ratio of total fans per interaction/engagement* on social
* interaction/engagement = like, share, retweet, etc
Conclusion
We drew clear conclusions from this study that while we agree with John Philip Jones' original theory that brands with higher market share can reduce their share of paid media ad spend, today, owned media also plays an important part in that equation. It is critical for brands that grow to increase their traffic to their owned media sites and moreover to concentrate on the way consumers interact with their owned media sites (via mobile, engaging with content).
Source Papers
"Digital owned media effects and its synergy with paid media on brand sales" by Rob Jayson & Martin Block – Advertising Research Foundation annual meeting June 2017
"How synergy effects of paid and digital owned media influence brand sales" by Rob Jayson & Martin Block – Journal of Advertising Research March 2018
Copies of source papers are available from rjayson@theusim.com.
Get in touch with USIM now!
Learn how USIM can grow your business
Contact Us